baldati.org election 2010
Baldati.org
| February 27, 2010 at 03:37 PM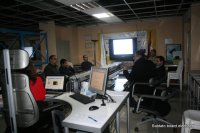 بيان عن جمعيّة بلدتي
إنتخبت جمعية بلدتي في جلسة للهيئة العامة انعقدت في مركز الجمعية في اليسار بتاريخ شباط 2010 أعضاء الهيئة الإداريّة الجديدة للجمعية، وجاءت النتيجة كالآتي:
المهندس شاكر نون رئيساً وممثلاً للجمعية لدى الجهات الرسمية.

ألآنسة دولي عمانوئيل نائباً للرئيس.

المهندس فراس بوذياب امينا للسر.

المهندس راني الهاشم اميناً للصندوق.

ألسيدة برناديت صفير محاسباً.
Add your comment
Login to Baldati to be able to add your comments!
Comments
There are no comments for this article yet.