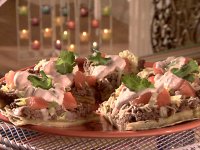 Mexican Pizza
Ingredients
1/4 cup sour cream
1/4 cup salsa (recommended: Pace)
1 1/4 pounds ground beef
4 garlic-herb wraps (recommended: Mission), or any large tortilla
2 cups shredded Mexican blend cheese (recommended: Kraft)
1 (16-ounce) can refried black beans (recommended: Rosarita)
1/2 red onion, diced
2 cups lettuce, shredded
1 tomato, diced
Nacho rings, for garnish
Directions
Set up the grill for direct cooking over medium heat. Oil the grate when ready to start cooking.
In a small bowl, stir to combine the sour cream and salsa; set aside.
Brown the ground beef in a skillet. Set aside to cool.
Lay out 2 wraps or tortillas. Divide the cheese and sprinkle over wraps. Top with remaining wraps; set aside. In a microwave-safe bowl, cook beans on high setting for 4 to 6 minutes in the microwave, or until done. Place the cheese-filled wraps on the hot oiled grill and cook for 2 minutes; turn over. Divide the black beans and spread on top of the wrap. Top with the reserved cooked beef and diced onions. Close the grill and cook for 2 more minutes.
Remove the pizzas from grill and top with lettuce, tomatoes, and drizzle with the sour cream salsa mixture. Serve hot, garnished with nacho rings.
INDOOR: Preheat oven to 400 degrees F. Complete above steps through microwaving the beans. In a skillet large enough to fit the wraps, heat 2 tablespoons of vegetable oil over medium heat. When the oil is hot, carefully fry both sides of wraps for 1 to 2 minutes, or until golden brown, turning with a large spatula. Transfer wraps to a baking sheet. Spread each wrap with the heated black beans and top with reserved ground beef and diced onions. Place in oven and bake for 5 minutes. Remove from oven and garnish as directed
Cook Time: 30 min
Level: Easy
Yield: 4 servings