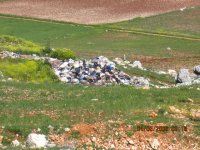 Is it acceptable?
Sunday the 5th of April 2009, 42 hiker coming from different regions of Lebanon and different countries as USA, UK, Italy & Belgium were with "Baldati Hiking Club" discovering magnificent rural areas of Lebanon.
The hiking trip was from Aitanit in the Bekaa towards Bou Arab in Rachaya passing by the Queraoun lac, Majdel Balhis and Kawkaba.
Amazing site seeing, wonderful nature, clean environment… we were astonished by the beauty of these rural, agricultural mountains and valleys.
Suddenly… something is not fitting in this outstanding beauty!
What is this?
Is this waste and garbage?
Are they throwing their waste somewhere where no one can see them?
Are they not aware of the fact that they are ruining a natural beauty and natural resources?
How come that no one noticed that? Is it acceptable to gather people's waste in this valley between Majdel Balhis and kawkaba?
Well, at least for us, this is NOT ACCEPTABLE…