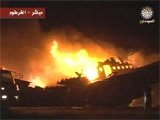 Sudan air crash kills more than 100 people
More than 100 people were feared dead last night after a Sudan Airways jet exploded after veering off a runway as it landed at Khartoum airport.
Civil aviation officials said that, of the 203 passengers and 11 crew on board, 103 passengers and 10 crew members had survived.
The Airbus A310, arriving at Khartoum from the Syrian capital Damascus, landed in a thunderstorm. It appeared to touch down safely before swerving off the asphalt and bursting into flames.
The plane had left Syria, and then stopped at Amman in Jordan, before flying on to Khartoum. "There are missing passengers who could be still inside the plane, or left the aircraft but did not inform officials they were passengers," a police spokesman said.
The landing was "rough", one survivor told Sudanese television, adding: "The right wing was on fire." Smoke poured into the cockpit and passengers began opening emergency exit doors as the flames quickly swept into the plane, he said.
The cause of the crash was unclear. The Sudanese ambassador to Washington, John Ukec Lueth Ukec, put it down to the bad weather. "There was a lot of water on the runway and they still tried to land," he claimed. "It will be investigated and we will find out what went wrong, whether it is a technical issue or human error."
Sudan's police chief, General Mohammed Najib, said bad weather "caused the plane to crash-land, split into two and catch fire". He added: "We believe that most of the passengers were able to make it out and escape with their lives." He was unable to describe exactly how the survivors got out.
But the director of Khartoum International Airport, Yusuf Ibrahim, attributed the accident to a technical fault in the aircraft. He said the plane landed safely, and the pilot was getting his taxiway instructions from the control tower. "At that moment, one of the engines exploded and the plane caught fire. It is a technical reason," said Mr. Ibrahim.
Sudan has a poor aviation safety record. In May, 24 people died in a crash in a remote part of the south of the country. Key members of the region's government were among the dead.
In July 2003, a Sudan Airways Boeing 737 flying from Port Sudan to Khartoum crashed soon after take-off, killing all 115 people on board. Officials blamed economic sanctions for restricting the availability of vital aircraft parts.
In 1997, the US President Bill Clinton had barred the export of goods and technology to Sudan, citing its "support for international terrorism, ongoing efforts to destabilize neighboring governments, and the prevalence of human rights violations".
However, the US State Department denied that sanctions covered equipment needed for aviation safety.