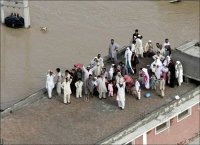 Emergency Need Assessment Report
back ground information:
Due to heavy torrential rains in Pakistan about 4.5 million have been affected by flooding in Pakistan, according to the UN. Authorities are working to evacuate about 500,000 residents from Punjab and Sindh, where the water is raging. "4.2 million People of 592,712 families suffered due to the floods in Khyber Pakhtunkhwa. 855,755 people became homeless, 100,135 houses destroyed and 56,749 damaged in the floods," said, while updating the damage caused by the flood. 87 government buildings and crops on 26,737 acres of land destroyed in the water. Source (Mian Iftikhar Hussain, Khyber Pakhtunkhwa information minister)
Several bridges, including main bridges on Karakoram Highway, were also destroyed, resulting in the closure of the road for traffic. Hundreds of people were stranded in their villages, as their communications with other parts of the country was severed. According to the General Secretary of U.N, it is the worst disaster's situation of the Planet Earth.
DISTRICT D.I.KHAN:
BHUs are high alert, spoken by EDO health. According to District headquarter hospital and Mufti Mehmood Memorial hospital 184 patients found diarrhea.
According to the local Authorities 4 bridges collapsed, some of the bridges were made for accessibility for the residents across the rainy canals; Heavy floods also inundated vast cultivated land and destroyed the corps, orchards and social forestry while communication system was completely collapsed in some areas of the district. Crops of Sugar Cane, Pulses, Maize, Rice and Vegetables have been destroyed. Similarly poultry and livestock have been badly affected. However, the exact estimation to human lives, physical infrastructure, livestock and crop is not yet known in all the areas.
According to Public Health Department, local water supply sources filled with the flood water so these sources are not safe anymore for the use of drinking water.
Methodology:
The team members visited individual households and interacted directly with affected families in order to reflect on their needs in a participatory way; these interactions provided an opportunity to the team to understand and reflect on the vulnerabilities of these affected population, but in fact they also managed to conduct informal counseling sessions to ease their immediate tensions and frustrations. They developed a feeling that somebody is there who are thinking about them and their care.
The major findings of the study were documented in the form of this report. Presently, very little information is available regarding the status and condition of effected people and hence their problems remained largely un-addressed.
Tools and Techniques: Semi Structured Interviews
Secondary Data Collection
Observations
Focus Group Discussions
Major objectives of the assessment were:
1. To assess the tangible and intangible needs of flood affected community in order to ensure the provision of needed services.
2. To asses and analyze the existing situation of flood affected community primarily at D.I.KHAN District to plan and execute relief emergency project.
3. To identify potential stakeholders and to establish linkages for any future interactions related to relief/humanitarian intervention for flood affected community at D.I.KHAN Districts.
Major Findings:
· There is lack of Safe Drinking water and sanitation facilities which resulted in a huge number of water and sanitation born diseases in the areas that leads to other health issues.
· Most of tube wells affected with flood water, which are one of the main source to provide water to safe areas.
· Due to heavy flow of flood water maximum of houses completely destroyed (latrines, bathing places, washing points, waste disposal system) it is observed that most of the flood affected families, especially women and children are suffering from scabies, diarrhea and other skin disease
· The kitchen utensils found insufficient to serve families
· As most of the Humanitarian agencies are focusing on provision of Food and Non Items, there are few basic health services available. Expecting and lactating mother do not have and pre and post natal care services. It is also observed that nutrition education can improve the health status of these flood affected families;
· The existing water sources (Hand Pumps, Dug Wells, tube wells etc) totally destroyed in some affected areas and supply for drinking water is stopped;
The following have been identified as major needs of the flood affected families at D.I.KHAN District:
Ø Safe drinking water through water tinkering
Ø Installations of Hand pump/pressure pumps
Ø Sanitations/Latrines facilities
Ø Washing places and Hygiene Kits and Hygiene Education
Ø Medical camp for affected peoples by flood water
Ø Aqua tabs
Ø Provision of Hygiene kits for their personal hygiene
Ø Safe disposal of dead animals
Ø Safe disposal of human excreta
Ø Non food items (Kitchen utensils, Clothes, Bedding, Foot Wear etc).
Ø Medical aid including Primary and Reproductive Health Care to injured, pregnant and or mothers respectively
Measures to be undertaken on priority basis:
1. Provision of Safe Drinking Water to reduce abdominal and other water born disease;
2. Provide Chlorine, Aqua tabs on immediate basis.
3. Provision of Hygiene and Nutrition Education, especially to mothers responsible for feeding infants and growing children;
4. Provision of Basic Health and MCH Services;
5. Provision of safe disposal of human excreta, bathing and washing facilities to reduce the incident of scabies and other skin disease;
6. Provision of Medical aid to chronically ill persons etc
7. Clothing and provision of blankets and other necessary items for affected families;
As far as the needs are concerned the list can be prolonged, it is recommended that support and assistance provided to the affected peoples should meet their urgent needs as mentioned earlier.
Needs assessments of affected peoples: Realizing grievances of the affected peoples on humanitarian ground AID deputed a team of 04 members to analyze ground situation and prioritize their needs. The assessment team consists of 02 groups carried out its activities for 1 day at length of 8 hours conducted meeting with all stake holders at UC Lunda Sharif District D.I.KHAN to assess the ground realities. During the assessment the team has managed to visit the following villages of UC Lunda Sharif;
Affected House Holds in UC Lunda Sharif, District D.I.KHAN

Sr. No.

VILLAGES

AFFECTED House Holds

01

Hayat Bochra

250

02

Rohra

100

03

Rohra (New)

200

04

Pahor

200

05

Adil Sipra

200

06

Daraban Khurd

300

07

Bubbi

100
Recommendations:
Immediate response to provide safe drinking water in terms of water tinkering in those areas where the flood water enter into Tube wells, Dug wells and other sources of water because these all sources have polluted and not good for drinking purpose.

Aqua Tabs, Chlorine and other filtration items immediately provide to these affected people to safe from water born diseases.

Tents for temporary shelter i.e. 1 tent for a family of 10 individuals. In addition, with the beginning of the winter season in the next two months, a winterization package could be envisaged, should the affected families are not able to reconstruct their houses by that time.
· The affected families would be re-building their houses once the emergency phase is over. Majority is from low income level groups and depending on the income level of each household, the time frame for re-building the houses would vary. It is recommended that the extremely vulnerable families should be identified among the affectees and assisted on priority basis. The assistance could include wooden beams, roofing material and other shelter material.
General Recommendations
1. There is a dire need to set up an "Early Warning System" and monitoring mechanism of rainy streams in the case of rains. Most of damages to food and domestic belongings were because of the sudden inflow of heavy flood waters. Most of the families did not get time to take their cash or clothes with them.
2. One of the main causes of over flow was the blockage of the rainy canals of D.I.KHAN district. These rainy canals should be properly widened and cleared in order to avoid such disasters in future.
3. The coordination mechanism is still not very effective. Coordination needs to be strengthened. The respective town committees should be involved in the relief activities in their area of jurisdiction. The government should also try to contact local NGOs and involve them in the distribution of relief goods along with the government.
Reported by
Muhammad Waqas
Finance Secretary
Alliance for Integrated Development (AID)
Ph#:+92.0966 730933
E-mail: waqas_ loni@hotmail.com
Dera Ismail Khan
KPK, Pakistan