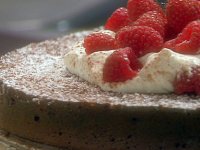 Flourless Chocolate Torte
Ingredients
1/2 pound (2 sticks) unsalted butter, cut into 1/2-inch cubes, plus 1/2 tablespoon
1 pound semisweet chocolate, coarsely chopped
1/4 cup amaretto
8 large eggs
1/4 cup sugar
1 teaspoon vanilla extract
1/2 teaspoon salt
Confectioners' sugar or cocoa powder, for garnish
Fresh raspberries, for garnish
Directions
Preheat oven to 325 degrees F.
Using 1/2 tablespoon butter grease a 9-inch springform pan and line bottom with a parchment round. Cover pan underneath and along sides with foil and set in a roasting pan. Bring a medium saucepan of water to boil.
Combine the chocolate, butter, and amaretto in a metal bowl set over simmering water or in the top of a double boiler. Melt the mixture, stirring constantly, until smooth and creamy, about 5 minutes; reserve.
Meanwhile combine eggs, sugar, vanilla, and salt in a large bowl and beat with an electric mixer until frothy and almost doubled in volume, about 5 to 10 minutes. Fold 1/3 of egg mixture into chocolate mixture using a rubber spatula. Repeat this process 2 more times - until all of egg mixture has been folded into chocolate mixture.
Pour batter into prepared springform pan and place in the roasting pan. Pour enough boiling water into the roasting pan to come about halfway up the sides. Bake until cake has risen slightly and edges are just beginning to set, about 40 to 45 minutes. Remove cake from roasting pan and cool on wire rack to room temperature. Remove foil, cover, and refrigerate overnight.
Remove cake from refrigerator about 30 minutes before serving. Remove springform pan sides, invert cake onto a large plate, and peel away the parchment paper from bottom. Reinvert cake on another large plate or serving platter and garnish with confectioners' sugar or cocoa powder immediately before serving.
Cook Time: 40 min
Yield: 16 servings