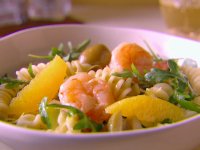 Fusilli with Shrimp, Orange and Arugula (Summer)
Ingredients
Pasta:
1 pound fusilli pasta
2 tablespoons extra-virgin olive oil
2 shallots, minced
1 clove garlic, minced
1 pound medium shrimp, shelled and deveined
Salt and freshly ground black pepper
2 tablespoons white wine
Vinaigrette:
1 teaspoon lemon zest
1/4 cup lemon juice (about 1 lemon)
1/4 cup extra-virgin olive oil
Salt and freshly ground black pepper
Salad
2 large oranges
5 ounces arugula
15 (5 ounces) large pitted green olives, halved
For the Pasta:
Directions
Bring a large pot of salted water to a boil over high heat. Add the pasta and cook until tender but still firm to the bite, stirring occasionally, about 8 to 10 minutes. Drain the pasta reserving about 1/2 cup of the pasta water.
In a large saute pan, heat the oil over medium-high heat. Add the shallots and garlic. Cook until soft, about 2 minutes. Season the shrimp with salt and pepper, Add the shrimp and white wine to the pan. Saute for 2 to 3 minutes or until the shrimp are pink and cooked through.
For the Vinaigrette:
Combine the lemon zest and lemon juice in a small bowl. Slowly add the oil, whisking constantly, until mixture is smooth, Season with salt and pepper, to taste.
For the Salad:
Using a paring knife, remove the peel and white pith from the oranges. Over a large serving bowl, cut between the membranes of the oranges to form segments. Allow the juice from the oranges to drip into the serving bowl. Add the arugula and olives to the serving bowl. Toss lightly to combine.
Add the hot pasta and the vinaigrette to the serving bowl and toss until arugula is wilted and all the ingredients are combined.
Cook Time: 20 min
Level: Intermediate
Yield: 4 To 6 Servings