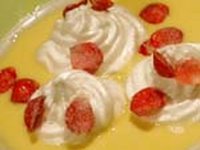 Floating Islands
3 cups milk
1/2 vanilla bean
9 yolks
1 3/4 cups sugar
2 quarts water
6 egg whites
Crystallized rose petals for garnish, recipe follows
Crystallized Rose Petals:
1/2 teaspoon water
1 egg white
16 rose petals from organic or confetti roses
2 tablespoons sugar
Directions
In a saucepan, bring the milk to a boil with the vanilla bean. Let sit 15 minutes to infuse. Whisk yolks with 1 cup of the sugar then temper with hot milk. Return to the heat and cook gently to thicken. Strain and place over ice water and stir to cool and thicken. Chill.
Simmer 2 quarts of water in a large frying pan but do not boil. Meanwhile, beat the whites until stiff but not dry. Gradually add the remaining 3/4-cup of sugar and continue beating until glossy, about 30 more seconds. Place a large sheet pan next to the water, lined with waxed paper dampened slightly. Using a large star tip or 2 dessert spoons or an ice cream scoop, squeeze out rosettes onto the paper.
Using a spatula, lift the rosettes off the paper 1 at time and slide them into the simmering water. Poach for 7 minutes on the bottom then turn over for 3 minutes, not allowing them to touch while poaching. Drain on a dish towel. Remove to a sheet pan and chill.
Crystallized Rose Petals: Whisk water and egg white in medium-sized mixing bowl. Dip rose petals into mixture and stick to inside rim of bowl to drain. Dip both sides of drained petals in sugar and place on a sheet pan with parchment paper. Let dry for 4 hours in a warm place.
Serve floating islands in a bowl of the vanilla sauce, garnished with rose petals.
Cook Time: 1h 30mn
Level: Intermediare
Yield: 4 to 6 servings