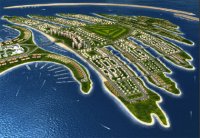 A cedar made of sand?
A Beirut company has unveiled plans to build an island in the shape of a cedar tree off the coast of Lebanon, with over 300 villas, a golf course and a self-contained infrastructure, including a water treatment centre and power plant.
The $7.4 billion Island, on which hundreds of Lebanese have apparently already asked to buy houses, is being developed by Noor International Holding, headed by Dr Muhammad Saleh, a Lebanese civil engineer who developed the world's tallest hotel, the Rose Tower in Dubai.
Working with a team of more than 20 architects, civil engineers, environmental and investment consultants, Noor has produced detailed plans for the enterprise, and has, it says, letters of intent from investors in Bahrain, Kuwait, Saudi Arabia, Holland, Mexico, Panama and – most of all – Lebanon.
Speaking to NOW Lebanon, Dr. Saleh said that funding was not a problem, that environmental and marine assessments were underway; that Ernst & Young, the financial services company, was refining the first draft of the economic analysis and that Tourism Minister Elie Marouni expressed his support for the enterprise this week.
"I got the idea," said Dr Saleh, "when I was on a plane in 2005, looking at the logo of Middle East Airlines – a cedar. And then when I was in Lebanon I saw the shore, and I saw how we could make a city." A dream it may once have been, but the financial world seems to be taking it seriously. Investment fund managers have been in touch to discuss international investment, and Aston Martin wants to present the project to its owners' club at the launch of their new car in November.
The project has its skeptics. Thomas Schellen, publishing editor of Lebanon's Zaywa Industry Research, pointed out that the Lebanese environment could present problems. "The Mediterranean coast," he said, "is battered by storms most winters and projects like the sea wall for the new Corniche show that building construction on the coastline is not a simple proposition." Similar islands have, of course, been constructed off the coast of Dubai, but, say Schellen, "the Arabian Gulf with its shallow waters is much easier to deal with."
Furthermore, he pointed out, mega-projects do not have a good track record in Lebanon. "Some years ago," he said, "Gulf investors launched what was to become Sannine Zenith resort on one percent of Lebanon's surface. They had models, a theme song, a marketing office, and the works. They already bought properties. To date, the Sannine Zenith has not moved an inch."
However, according to Dr. Saleh, the only obstacle to beginning work on the project is getting the necessary permits, although the volume of paperwork necessary makes Cedar Island, as he said, "a high-risk venture." Permission must come from the Ministry of Public Works and Transport, then from the civil authorities, then the Environment Ministry, then Parliament and finally a Presidential decree must be issued. "We are looking at a time scale of four to six months," said Dr. Saleh, "Inshallah."
Criticism has also come from environmentalists, who have raised concerns that building a giant artificial island will affect marine and coastal bird life. Amir Shahab works on research for the project, and counters that they are finding a site for land reclamation, which will "not have a coral reef, we are making sure there will be no bird habitat and no fishermen whose livelihood depends on fish stocks." It will, in the long run, he said, become an artificial reef environment for fish, and the water treatment facility will prevent stagnation.
The project is slated to be in Damour, just south of Rafik Hariri International Airport, and to take between three and four years to build. According to Noor International, it will create 50,000 jobs, and take advantage of willingness to invest and buy in Lebanon as the country's economy remains strong in comparison with troubled markets in the rest of the world.
Meanwhile, among Lebanese blogs and on Facebook, the subject is dividing people sharply. Blogger Qika Nabki wrote, "Am I the last person to hear about this? Say it isn't so!" The online community also expressed the view that this island is so similar to the Palm Island in Dubai that it will move Lebanon closer to being what one Facebook user called "another Dubai-Disney-land."
"I'm horrified! Lebanon isn't Dubai," wrote a member of the 963-strong Facebook group "No for Cedar Island." However, a Facebook group of fans of the project numbered more than 4,000 and was growing. One commenter made the point that he was against the idea because it would create an easy target in the event of more conflict with Israel.
"Well sure," said Dr. Saleh when questioned about the security aspect, "if there is a war, we'll stop." However, he explained, he unveiled the plans only as US President Barack Obama took office, because, "he will help the Arab world," and conflict is unlikely in the future.
You don't have to be optimistic to work in the Noor offices, it seems, but it helps. "We passed through a lot of difficulties in Lebanon," chimed in Lilian Haddad, who is handling the company's investor contracts, "and I think it's saturated, it's over."