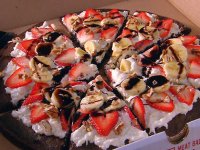 Brownie pizza
Ingredients
1 (20-ounce) box fudge brownie mix (recommended: Duncan Hines)
1 (8-ounce) package cream cheese, softened
1 (8-ounce) can crushed pineapple, drained
2 tablespoons sugar
2 banana, sliced
1 cup fresh strawberries sliced
Marshmallows
Maraschino cherries
1 cup chopped nuts
Coconut
Chocolate syrup, for drizzling
Whipped cream
Mint, for garnish
Directions
Preheat oven to 350 degrees F. Grease a 15-inch pizza pan.
Prepare brownie mix according to directions on box. Pour onto prepared pan. Bake for 20 minutes or until done. Remove from oven and cool.
Beat cream cheese while adding pineapple and sugar together in a bowl. Spread mixture over brownie crust. Arrange banana, strawberry slices, marshmallows, and cherries over cream cheese mixture. Sprinkle with nuts and coconut. Drizzle with chocolate syrup. Add whipped cream on top and mint for garnish. To serve, slice as you would a pizza and enjoy!
Cook Time: 35 min
Level: Easy
Yield: 6 to 8 Servings