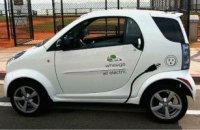 Wheego joins the ranks of electric car startups
A decade after General Motors killed the electric car, big automakers and startups are revving up to put battery-powered vehicles on the road over the next couple of years. One of the latest entrants is Wheego, an Atlanta company that is about to launch the Whip—a tiny low-speed "neighborhood electric vehicle" that will be upgraded in 2010 to a full-speed, highway-ready car.
The Wheego Whip looks like a "real" car. Somewhat similar in appearance to the Smart fortwo or Think City EV, it's a two-seater microcar sporting all the mod cons—power windows, Bluetooth stereo, iPod/iPhone jack, air conditioning.
Like Coda Automotive's forthcoming electric sedan, the Whip's body and chassis are Chinese made—another sign that China is emerging as a player in the nascent electric car industry—while the battery comes from Canada and the motor from Wisconsin (USA) The Whip will be assembled in California in the Los Angeles exurb of Ontario. Other electric startups are following a similar business plan, making the old Detroit automotive model increasingly look as viable as a Hummer.
"Initially, the market's got to be people who are environmentally conscious," says McQuary. "I think there is a market for a low-speed vehicle. Clearly, as a city car and I think there's a lot of beach communities where it's real practical." Then there's what McQuary calls a "hidden market": Teenage drivers.
"You got your high school driver, you don't want him on the highway, you don't want him doing 55 miles/hour, you don't want two knuckleheads in the back seat playing peek-a-boo with him," says McQuary. "You want them to be able to get to school, get to their friends, get to practice and get home. And the insurance rates on a low speed vehicle are much lower than on a full speed car."
The low-speed version will set you back about $19,000 before state and federal tax rebates, thanks to its most expensive component, the battery.
The interior of the Whip ... a little plasticky: Todd WoodySo, how does a Wheego go? McQuary drove up in a pre-production white Whip near the ballpark on the San Francisco waterfront. The fit-and-finish was a bit rough and plasticky, something I also noticed in the pre-production version of the Chinese-built Coda.
The Whip held its own, easily maneuvering through traffic and making tight U-turns. It is, of course, a cinch to park. There's enough space behind the seats to hold several bags of groceries.
The full-speed, 100-mile-range version of the Whip will be powered by a lithium iron phosphate battery and is now undergoing federal crash testing. It will retail for about $29,000—$21,500 after the federal tax credit—when it goes on sale, now scheduled for June 2010. At that price, it will be competing with Nissan's Leaf, a polished and futuristic-looking sedan that seats five and is set to hit the market next year.
McQuary says owners of the low-speed Whip will be able to upgrade to the full-throttle version by paying the price difference between the two cars and a small depreciation fee on their trade-in.
He expects to sell 20 times as many full-speed Whips. "We'd like to be a big niche player," says McQuary. "We don't have ambitions to overtake one of the majors. But I think if we make a great car and offer really unexpected great service we'll do fine."
It's still early days for the electric car industry, and it's anyone's guess how things will shake out, but the fact that tech veterans like McQuary are jumping into the business suggests that we have a wild ride ahead of us.