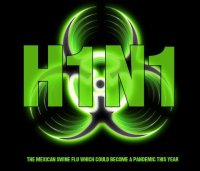 H1N1 by Gisele Eid
The only portals of entry are the nostrils and mouth/throat. In a global epidemic of this nature, it's almost impossible to avoid coming into contact with H1N1 in spite of all precautions. Contact with H1N1 is not so much of a problem as is proliferation.
Les seules portes d'entrée sont les narines et la bouche/gorge. Dans une épidémie globale comme celle-ci, c'est presqu'impossible de ne pas être en contact avec le H1N1 même en prenant toutes les précautions. Sa prolifération est encore plus problématique que son contact.

While you are still healthy and not showing any symptoms of H1N1 infection, in order to prevent proliferation, aggravation of symptoms and development of secondary infections, some very simple steps, not fully highlighted in most official communications, can be practiced (instead of focusing on how to stock N95 or Tamiflu):
Alors que vous êtes encore en santé et que vous n'avez pas de symptômes de la H1N1, pour prévenir la prolifération, l'aggravement des symptômes et le développement d'infections secondaires, quelques actions très simples, qui ne sont pas notés par les communications officielles, peuvent être mis en application (plutôt que de se concentrer sur comment accumuler des provisions de N95 ou Tamiflu).
1. Frequent hand-washing (well highlighted in all official communications). Lavez-vous souvent les mains (ceci est très publicisé par les communications officielles).

2. "Hands-off-the-face" approach. Resist all temptations to touch any part of your face (unless you want to eat, bathe…). Utilisez l'approche «ne pas mettre les mains sur la figure» (à moins que vous voulez manger ou vous laver …)

3. *Gargle twice a day with warm salt water (use Listerine if you don't trust salt). *H1N1 takes 2-3 days after initial infection in the throat/ nasal cavity to proliferate and show characteristic symptoms. Simple gargling prevents proliferation. In a way, gargling with salt water has the same effect on a healthy individual that Tamiflu has on an infected o ne. Don't underestimate this simple, inexpensive and powerful preventative method. Gargarisez deux fois par jour avec le l'eau tiède salée (utitisez la Listerine si vous n'avez pas confiance au sel). Le H1N1 prends 2-3 jours après l'infection initiale dans la gorge pour se propager et de démontrer des symptômes. De gargariser prévient la prolifération. En un certain sens, de gargariser avec de l'eau salée a le même effet sur un individu en santé qu'a le Tamiflu sur une personne infectée. Ne pas sous-estimer cette méthode simple, peu coûteuse et puissante.

4. Similar to 3 above, *clean your nostrils at least once every day with warm salt water. *Not everybody may be good at Jala Neti or Sutra Neti (very good Yoga asanas to clean nasal cavities), but *blowing the nose hard once a day and swabbing both nostrils with cotton buds dipped in warm salt water is very effective in bringing down viral population.* Comme le no. 3 ci-haut, nettoyez vos narines au moins une fois par jour avec de l'eau tiède salée. Ce n'est pas tout le monde qui est habile à la méthode (Jala Neti ou Sutra Neti – des asanas de Yoga pour nettoyer les cavités nasales), mais de se moucher avec force et de nettoyer les deux narines avec du cotton trempé dans de l'eau tiède salée est très efficace pour réduire la population virale.


5. *Boost your natural immunity with foods that are rich in Vitamin C (Amla and other citrus fruits). *If you have to supplement with Vitamin C tablets, make sure that it also has Zinc to boost absorption. Donner un coup de pouce à votre immunité naturelle en mangeant des aliments qui sont riches en vitamine C (Amla et autres fruits citrus). Si vous devez supplémenter avec des capsules de vitamine C, assurez-vous qu'il y a aussi du zinc pour améliorer l'absorption.

6. *Drink as much of warm liquids (tea, coffee, etc) as you can. *Drinking warm liquids has the same effect as gargling, but in the reverse direction. They wash off proliferating viruses from the throat into the stomach where they cannot survive, proliferate or do any harm. Buvez autant de liquides tièdes que vous pouvez (thé, café, etc). De boire ces liquides tièdes a le même effet que de gargariser, mais à l'inverse. Cela lave les virus de la gorges dans l'estomac où ils ne peuvent pas survivre, de proliférer ou faire du dommage.
I suggest you pass this on to your entire e-list. You never know who might pay attention to it - and STAY ALIVEbecause of it.
Je suggère que vous envoyer ceci à votre liste d'adresses. On sait jamais qui y prêtera attention etrestera en vie pour l'avoir fait!
Gisele Eid