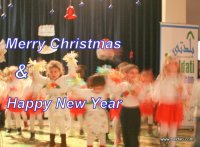 we wish you
From Baldati.org we wish you "2010 wishes" in addition to the 2000 wishes we already posted on www.baldati.com here is another 10 more :
We wish you
1. More Citizenship than fanaticism
2. More Civil Society involvement than "don't care attitudes"
3. More Loyalty than negligence.
4. More Gratitude than selfishness.
5. More Team work than individualism.
6. More Self evaluation than Blaming others.
7. More Directness than " playing smart"
8. More effectiveness than " theatric acting"
9. More Love than Hate.
10. More Forgiveness than Wars
In addition of course to winning the "LOTO" and Get a new car and Travel all over the world...
Best regards,
Baldati.org Team
Elissar, noon.bldg,Grd. floor,metn,Lebanon
+961 (4) 922999 +961 (4) 924100 +961 (4) 924101 Cel: +961 (3)666565
Web: www.baldati.org E-mail: info@baldati.org IM: Baldati@msn.com