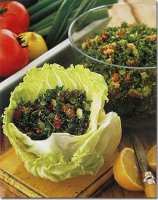 Tabbouleh
Serve: 4
½ cup bur'ghul
8-10 spring onions
2 teaspoon salt
¼ teaspoon black pepper
¼ teaspoon mixed spices
5 cups very finely chopped parsley
¼ cup very finely chopped fresh mint or 2 teaspoon dried mint
3 large tomatoes, finely chopped
approx ¼ cup lemon juice
¼ cup olive oil

Wash the bur'ghul and drain well by squeezing out excess water with cupped hands. Place in a bowl and refrigerate for at least 1 hour.

Trim the spring onions to leave about 8 in (20cm) of green. Finely chop the white of the spring onions and mix it into the drained bur'ghul with the salt, pepper and spices. Finely chop the green of the spring onions and place it with parsley, mint and tomatoes on top of the bur'ghul mixture. Set aside in the refrigerator until ready to serve.

Just before serving, add the lemon juice and olive oil and toss well. Adjust salt and lemon juice to taste.

Tabbouleh is usually served in a wide based bowl or deep serving dish and garnished with lettuce leaves. When it is served as mezza a large spoonful is placed in a lettuce leaf, wrapped into a roll and eaten with the fingers.

Variation:
Add 1 small cucumber or ½ green pepper (both finely chopped ) to the salad.