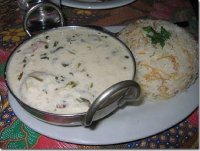 Shich Barack
Dough = 2 c flour and ½ c water
1 Ib. chopped lamb
1 c diced onions
Salt and pepper to taste
Yogurt sauce
2 to 3 T butter or ghee
3 cloves garlic
1 c chopped fresh coriander

1. Make dough and then roll into 2 inch round shape pieces.

2. Meanwhile fry lamb, chopped onions in butter or ghee.

3. Place a teaspoon of stuffing on small pieces, fold in half and then twist bottom to a standing position. Place on a greased baking tray and bake for about ten minute in medium oven temperature 350 degrees. Do not let the dumplings brown (this baking of the dumplings keeps them firm)

4. Make yogurt sauce. Add the baked dumplings and cook for about 30 minutes.

5. Meanwhile, fry in ghee 1 cup of fresh chopped coriander and 3 mashed cloves of garlic.

6. When ready to serve pour the yogurt sauce with the dumplings in a deep platter and cover the sauce with the coriander mixture.

Hint: Some prefer to eat this meal lukewarm.