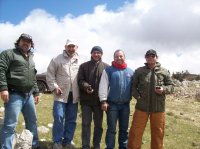 Ham Radio Benefits
Group of Ham Radio in Lebanon
OD5ET Joe, OD5MV Raja, OD5NJ Gaby, OD5RW John, OD5QB George, OD5YZ Cezar in Aintoura Al Maten April 2010 gathered at OD5NJ summer house for lunch and Dx'ing, enjoying mobile activity from the mountain.
Facing the world with peace and love by contacting DX Ham radio operators in all over the world from New Zealand, Australia, Nauru Islands, Hawaii, Haiti, Tahiti, Alaska, Antarctica, Iceland, All Europe, Russia, Far East, North America, Central America, South America, Falkland Island, Africa, Seychelles, Canary islands, All Asia, different cultural, different languages, different minds, different religions, we're brothers in Ham Radio.
Traveling to any country in the world for fun or for business, you always have some hidden friends there contacting them is as easy as picking the phone and calling someone. Ham Radio ops are so kind, sometimes they will ask you to be their guest, they will be happy to meet with you, to have a cup of coffee, to have lunch with you, showing you their radio Room having you being on the air if you like as second operator and you simply can talk live to your station in Lebanon. Sure we will do the same when a Ham Radio comes to Lebanon.
July 2006 and during the 33 days of war most of the communication into Lebanon and to outside was off or destroyed, the Lebanese Ham Radio operators were on the Air 24 hours a day standing-by, helping civilians to contact each others, delivering messages between families who were spread out because of the war.
Using their HF Radio for long distance, communicating with Lebanese people outside and inside Lebanon asking about the destiny of their families etc… OD5QB George and his wife Maria OD5QT were on the Air exchanging messages and delivering calls via 2meters insuring that messages was delivered 100%.
I have experienced this myself when I was in Saudi Arabia operating HZ1BC/2 as second operator from Abou Meshari's Shack needed to contact my family were I have failed via international calls I have succeeded contacting George OD5QB on the radio asking him to speak with my XYL (my wife) OD5YY on 2meters frequency to switch on the HF Radio in order to speak with her and my kids.
Yes, Ham Radio is there when regular communication fail.