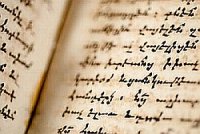 virtual Library of the Mediterranean Sea-500,000 digital documents
More than 70 libraries, archives and museums have cooperated to reach this goal

The http://data.manumed.org database, developed within the framework of MANUMED project and financed by the European Union (Euromed Heritage 4), is a collective library which aims at establishing a corpus of digital documents, free of copyright, resulting from libraries, archive, museums, and public or private collections relative to the Mediterranean countries.
Today, the library offers direct access to more than 500,000 documents: manuscripts, old books, archives, photography, maps, etc… These documents result from the co-operation with more than 70 libraries, archives and museums partners of Mediterranean area. We invite you to discover this virtual library (http://data.manumed.org) offering many interactive tools like the possibility of recording its favourite research, leafing through virtually books or publishing documents.
Today, millions of manuscripts are preserved in Mediterranean countries' libraries and archives, most of which are in a problematical state of conservation as a result of the deterioration of materials, the lack of care, and the absence of preventive conservation strategies. In addition, the illicit traffic of these objects is constantly growing to the benefit of a criminal and prosperous market. The richness and variety of these manuscripts is invaluable, as they represent the written elements of both vernacular and ancient languages on which Mediterranean civilisations are founded. Today, this linguistic diversity is threatened by the omnipresence of western media, which is unfavourable to the flourishing of vernacular languages and which risk disappearing in the short term, as a result.

The MANUMED II project intends to contribute to the preservation of the diversity of the written heritage, and its corollary, language, as an intangible heritage. A shared Virtual Library of the Mediterranean, multi-lingual, multi-alphabetical, written and acoustic, is implemented within this project.
PROJECT: MANUMED
Objectives:
• Increase knowledge and conservation of book collections in Maghreb and Mashreq countries
• Promotion of book craftsmen of the Mediterranean region involved in books work and enhancement of their activities within a perspective of sustainable development
• Awareness-raising of the value and diversity of cultural heritage among the populations
• Preservation and enhancement of the cultural diversity of Mediterranean languages and manuscripts

Calendar: 2008-2011
Budget: € 1.740.841
Participating countries: Algeria, Belgium, East Jerusalem, Egypt, France
To find out more:
Euromed Heritage 4 Project fiche
Project web page: MANUMED
Reference Euromedheritage