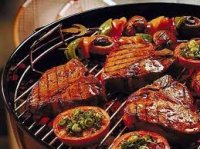 BBQ Recipes by Ethan Cole
For me, bbq recipes should be cooked on charcoal barbecues. No gas fuel cookers for me. The charcoal should be good quality too, either lumpwood charcoal or briquettes. If you grow fruit trees, the dried cuttings also make an excellent fuel.
A barbecue feast should smell, look and taste good. Be careful not to undercook anything as that can be harmful, but there's no need to set everything on fire either. Good cooking outside comes with practice. Just do the basics to begin with and then confidence will come with experience. Then you can experiment with different bbq recipes.
Barbecues don't have to be just sausages, chicken drumsticks and burgers, although there should always be some of those as people expect them! Even these can be spiced up with marinades and sauces etc.
There are traditional, classic sauces such as Aioli Sauce. This is the basis of mayonnaise and consists of garlic, egg yolks, olive oil, lemon and seasoning. A tasty Barbecue Sauce can be made with garlic, salt, paprika, clear honey, tomato puree, orange juice, white or red wine vinegar and soy sauce. You can also make Japanese marinades that use Sake and Indian marinades that use cumin and coriander. The use of herbs and butters also adds to the flavor of bbq recipes. You can have accompanying butters with foods such as lobster, shrimp or anchovy.
There are lots of bbq ideas for meat dishes to satisfy the carnivores. One of my favorite bbq recipes is Fillet Steak with Blue Cheese. I also like Lamb Chops with Tarragon and Pork Chops with Fennel. Poultry can include less common items such as pheasant, quail or guinea fowl.
Fish lovers will also enjoy barbecues and there are certain types of fish that are suited to being grilled. Bass, Mackerel, swordfish, cod, bream and sardines are just some examples of tasty bbq recipes using fish.
Vegetarians, and lovers of vegetables generally should also enjoy going to barbecues. There's nothing more full of flavor than grilled sweet corn or aubergines. Mushrooms are also very tasty, cooked in garlic butter.
People tend to forget pudding at barbecues. I have come across some imaginative bbq recipes for fruit deserts, including Caramelized Bananas and Apple Kebabs. If you prefer cheese as a last course, there's nothing finer than barbecued goats' cheeses.