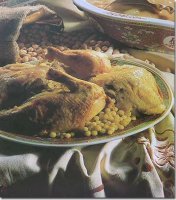 Moughrabia Lebanese Couscous
Ingredients:
2 large, tender chickens
1 2/3 lbs. rump of mutton or beef (with bones)
3 1/3 lbs. small onions (peeled and left whole)
1 lb. butter
3 tsp. salt
1 tbs. spices (Review No. 27, Gen. Dir.)
2 tbs. caraway
8 oz. soaked chickpeas as in No. 31
7 pts. boiling water
2 1/5 lbs. couscous (moughrabia)

Method:

Heat butter in a skillet and brown chickens. Do the same for meat and bones. Remove it all out of the frying pan and put in pot with part of salt, pepper and the water. Take soaked chickpeas and fry in the same butter. When fried add it to the pot with chicken and meat. Cook over night heat first then reduce heat to medium.

Fry onions in butter and keep in separate container until a little before the chickens are done when they are added to chickens along with 3/4 of the remaining butter.

Put the prepared moughrabia (cous-cous) in a pan and sprinkle on it some of the spices, salt, and melted butter which had been saved. Stir and turn several times away from heat. Then pour moughrabia into a strainer and place the strainer on a pot whose top is the same width as the strainer till the pot half-full of water that has some spices added to it. Seal the edge of pot with flour melted on paper.
Place the pot over high heat to boil hard. Stir moughrabia from time to time with flat ladle. Cover top of moughrabia with a wet cloth and reduce heat to medium. Wet the cloth over and over as it gets dry and each time you take it up to wet it stir the moughrabia. This operation requires from 2 to 3 hours.

About 45 minutes before time to serve, take out the moughrabia and pour it into a shallow pan and add rest of salt and pepper and turn several times. Take out chickens and cut each into four pieces, keeping it in a covered dish near the heat. Cut the meat and do the same with it. Take out some broth and the onions and chickpeas. Put pan with the moughrabia over low heat and gradually add some of the broth stirring all the while until it is done. Now remove it to the dish on which it is to be served and arrange on top of it the pieces of chicken and meat and onions with broth. Serve the remaining sauce in a separate dish.