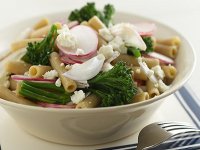 Whole - Wheat Pasta with Broccolini and Feta
Ingredients
1 medium shallot, thinly sliced

1 bunch broccolini (about 10 ounces), stems cut into 2-inch stems, and florets

1 medium bunch radishes, trimmed and very thinly sliced

12 ounces whole-wheat rigatoni

1 tablespoon sherry wine vinegar

1/2 teaspoon finely grated orange zest

3/4 teaspoon kosher salt, plus more as needed

Freshly ground black pepper

3 tablespoons extra-virgin olive oil

7 ounces feta cheese

, crumbled
Directions
Put the shallots in a bowl and cover with cold water. Soak for about 10 minutes; drain.
Bring a large pot of water to a boil and salt it generously. Fill a medium bowl with ice water and salt it as well. Add the broccolini to the boiling water and cook until crisp-tender, about 2 to 3 minutes. Stir in the radish slices, and cook 30 seconds, more. Use a slotted spoon or strainer to scoop out the vegetables and plunge them immediately into the ice water. Drain the vegetables, pat them very dry.
Add the pasta to the same pot of boiling water, and cook, stirring occasionally, until al dente, about 8 to 9 minutes. Drain and set aside.
Whisk the sherry vinegar, orange zest, the 3/4 teaspoon salt and pepper, to taste, in a large serving bowl. Gradually whisk in the oil, starting with a few drops and then adding the rest in a steady stream, to make a dressing.
Toss the rigatoni, broccolini, radish and shallot with the dressing. Add the feta cheese and toss lightly. Serve warm or room temperature.
Cook Time : 15 min
Level: Easy
Yield: 4 (2 1/2 cup) main course servings