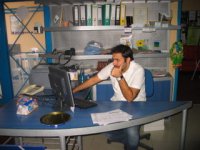 Baldati Recruitment
Baldati Recruitment
Baldati is seeking coordinators to work on full/part time basis within the NGOs development projects.
All backgrounds are required, with a preference for experienced in civil society work
Responsibilities
Participate in on-going training sessions
Identify and recruit citizens to participate in community groups
Schedule and coordinate community groups: discussion meetings and activities
Build and maintain good relations with community resources, including government officials, NGOs and others
Submit program reports and evaluations.
Travel regionally and work non-traditional hours: including evenings and weekends as necessary
Prepare materials and strategy for community groups, as necessary
Qualifications
Committed to building positive citizen participation in Lebanese society.
Computer literate with solid knowledge of Microsoft Office and Internet skills.
Good interpersonal skills.
Well-organized and detail oriented.
Ability to prioritize tasks and budget time accordingly
Ability to complete tasks without direct supervision.
Enjoys working with others in a team atmosphere.
Ability to work under pressure
Be interested in and accepting of people.
Good sense of humor
Please send your CV along with a cover letter and a briefing about the villages you have contacts in to academy@baldati.com
Or call: +961 4 922 999
If selected for an interview, you will be notified by email or phone.

Best Of Luck