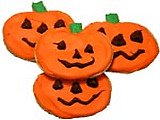 Pumpkin Cookies
Ingredients
1/2 cup butter or margarine

1/2 cup sugar

1/2 cup packed light brown sugar

1 egg

1 tablespoon unsulfured molasses

2 1/4 cups all-purpose flour

1 teaspoon ground cinnamon

1/2 teaspoon ground ginger

1/4 teaspoon grated nutmeg

1/4 teaspoon ground cloves

1/2 teaspoon baking soda

Pinch of salt

1 recipe Royal Icing (see below)

Chocolate chips or candy corn to decorate
Directions
Beat together the shortening, sugars and the egg until fluffy. Stir in the molasses. Sift together the flour, spices, baking soda and salt, and blend into the sugar mixture. Wrap the dough in plastic wrap and chill for 3-4 hours.
When ready to bake, preheat the oven to 325 degrees F. This is a tender dough, so work quickly to roll the dough 1/4-inch thick on a lightly floured surface and cut out pumpkin shapes using a pumpkin cookie cutter, or freehand using a small knife. If you're cutting your pumpkins freehand, don't make the stem too thin or it will break off after baking. Use a spatula to lift the pumpkins onto lightly greased baking sheets and bake for about 10 minutes. Don't overbake. Cool completely on wire racks before decorating.
To decorate the pumpkins, set aside 1/3 cup of the royal icing and color it green. Color the remaining icing orange by blending in red and yellow food coloring. (Start with 5 drops of red and 6 drops of yellow and add more coloring as desired to make the color more intense.)
Spread orange frosting over the pumpkin, avoiding the stem. Allow to set, then use a toothpick to dab green frosting on the stem.
You can press on candy corn or chocolate chips to make a face on each pumpkin, or you can pipe a face on with melted chocolate using the following method. Melt 1/2 cup of chocolate chips in the microwave in a heatproof bowl for 1 minutes. The chips may look unmelted, but stir them with a spoon to see if they have actually softened before putting them in for another minute, if necessary.
Spoon the melted chocolate into a zipper-lock bag. Seal the bag, pressing out any air. Use a toothpick to make a very tiny hole in one corner of the bag to release a thin stream of chocolate. Pipe eyes and noses and jagged grins as desired. Allow the chocolate to set before stacking the cookies.
Royal Icing
1 egg white*
1 teaspoon lemon juice
1 to 1 1/2 cups confectioners' sugar
With beaters or a standing mixer, whip the egg white and lemon juice until frothy. At medium speed, beat in the confectioners' sugar, a little at a time, until the mixture is thick but still liquid enough to beat. Then beat on high until the mixture is thick and glossy, about 3 minutes. Cover the surface with plastic wrap while waiting to use it. Royal icing will set to a firm, glossy finish when applied to a cookie. The icing can be stored, tightly covered, in the refrigerator for up to a week.
*RAW EGG WARNING
Food Network Kitchens suggest caution in consuming raw and lightly-cooked eggs due to the slight risk of Salmonella or other food-borne illness. To reduce this risk, we recommend you use only fresh, properly-refrigerated, clean, grade A or AA eggs with intact shells, and avoid contact between the yolks or whites and the shell