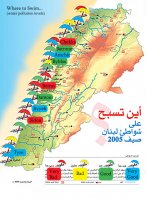 Coastal Pollution in Lebanon
Coastal Pollution in Lebanon
BEIRUT: A study carried out by Environment Hotline and published in the July issue of Al-Bia Wal-Tanmia (Environment & Development) magazine, confirmed that, despite the presence of dangerous polluted spots, much of the Lebanese coast was still safe for swimming and fishing. As part of a program monitored by Environment and Development magazine, samples from different stretches of the Lebanese coast were examined in the American University of Beirut's Core Laboratory, to determine the presence of fecal coliforms. The recent results confirmed monthly figures obtained between 2001-2002 by the National Marine Research Center of the National Council for Scientific Research (NCSR).
My question is : What shall we do as these results were in 2002... !
Any serious preventive steps ?