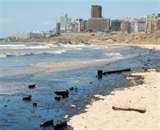 Coastal Pollution in Lebanon ... Any Solutions!
Working according to laboratory results, the magazine was able to draw a map indicating both polluted and safe areas.

Active Results
Antelias beach was identified as being the most contaminated, with Nahr al-Kalb. Saida and Ramlet al-Baida ranked second, third and fourth. The fecal coliform level was over 10,000 fc/100 ml in Altelias and Nahr al-Kalb, 4,000 in Saida and 2,000 in Ramlet al-Baida. A table containing maximum and minimum levels for 2001-2002 and results of spot tests from May-June 2005 has been released with the report.

The studies further showed that untreated sewage drains contributed dramatically to the contamination of the sea water.

The report quoted a study carried out in 2002-2003 by Dr. Khaled Nakhle of NCSR, that showed high rate of cadmium and lead pollution in in Antelias and Selaata, in addition to bacteriological contamination. Spot tests carried out by Greenpeace showed a higher rate of contamination.

Solid waste represents a major threat to the Lebanese shores; however, the sea's pollution is mainly the result of unprocessed sewage, 500,000 cubic meters of which is discharged daily off the Lebanese coast.

Studies indicated the cleanest shores for both fishing and swimming were those of Jbeil, Batroun, Jounieh, Damour, Jiyye, Rmeileh and Naqoura.

The World Health Organization (WHO) measures the level of Fecal Coliform bacteria found in water to determine the level of its pollution.

It is not recommended to swim in an area containing more than 100 colonies of Fecal Coliform bacteria per 100 ml of water.

Dr. Marie Abboud Abi Saab, a researcher at the National Marine Research Center, said Lebanon's climate and the open nature of its coast help decrease the presence of Fecal Coliform bacteria.

Laboratory studies show prolonged contact with contaminated sea water can lead to several health problems, most notably various forms of skin disease, as well as diarrhea and vomiting.

According to Environment and Development magazine, installing sewage treatment plants and processing solid waste are effective ways of reducing the high rates of pollution in the Lebanese Mediterranean and it shoreline, and protecting the safety of people using the water. 12 sewage treatment plants are under construction and are supposed to be operational between 2008-2012. -dailystar
Where are we going to ? It is a real hell !