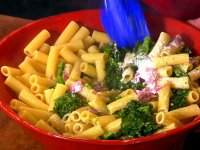 Broccoli Rabe and Salami Pasta
Ingredients
Salt

2 bunches broccoli rabe, trimmed and coarsely chopped

1/4 cup extra-virgin olive oil, eyeball it

4 cloves garlic, grated or finely chopped

1/2 teaspoon crushed red pepper flakes

1 pound rigatoni with lines, cooked to al dente

1 1/2 cups ricotta cheese

1/2 cup grated Parmigiano-Reggiano, plus some to pass at table

1/3 pound salami, chopped (Genoa, sopressata, hot or sweet, or a mix)

Black pepper
Directions
Bring 2 inches water in a deep skillet to a boil for broccoli rabe and 1 large pot of water to a boil for pasta. Salt the water liberally.
Simmer the broccoli rabe in water 10 to 12 minutes, then drain. Return the skillet to medium heat with 1/4 cup extra-virgin olive oil. Add garlic and red pepper to the oil and gently cook a couple of minutes, add broccoli rabe and cook 5 minutes more.
While the broccoli rabe cooks, drop the rigatoni into the boiling water and cook until al dente. Just before draining reserve 1 cup starchy liquid.
Combine the ricotta, Parmesan, salami and black pepper, to taste, in a pasta bowl. Add the starchy liquid and stir. Add the broccoli rabe and pasta and toss 2 minutes to coat and combine
Cook Time: 25 min
Level: Easy
Yield: 4 servings