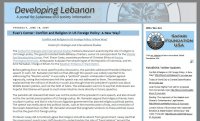 Safadi USA is back from Lebanon
Safadi USA is back from a two week trip to Lebanon and ready to return to Developing Lebanon, our blog about civil society in Lebanon.
This week we have featured BASSMA, a civil society organization dedicated to Lebanon's human development. BASSMA's mission is to improve the daily lives of disadvantaged families regardless of political or religious persuasion. The organization aims to establish social projects for sustainable development in disadvantaged areas that will help them be financially independent.
Please take a look at our profile on BASSMA, and feel free to comment about the great work they are doing!