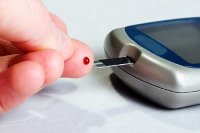 World Diabetes Day
14 November 2009
World Diabetes Day raises global awareness of diabetes - its escalating rates around the world and how to prevent the illness in most cases. Started by the International Diabetes Federation (IDF) and WHO, the Day is celebrated on 14 November to mark the birthday of Frederick Banting who, along with Charles Best, was instrumental in the discovery of insulin in 1922, a life-saving treatment for diabetes patients.
WHO estimates that more than 180 million people worldwide have diabetes, according to 2005 figures. This number is likely to more than double by 2030 without intervention. Almost 80% of diabetes deaths occur in low and middle-income countries.
Diabetes
Facts
At least 171 million people worldwide have diabetes; this figure is likely to be more than double by 2030.
Around 3.2 million deaths every year are attributable to complications of diabetes; six deaths every minute.
The top 10 countries, in numbers of sufferers, are India, China, USA, Indonesia, Japan, Pakistan, Russia, Brazil Italy and Bangladesh.
Overall, direct health care costs of diabetes range from 2.5% to 15% of annual health care budgets, depending on local diabetes prevalence and the sophistication of the treatment available.
The costs of lost production may be as much as five times the direct health care cost, according to estimates derived from 25 Latin American countries.
Recent studies in China, Canada, USA and several European countries have shown that feasible lifestyle interventions can prevent the onset of diabetes in people at high risk.
The global burden of diabetes
A diabetes epidemic is underway. An estimated 30 million people worldwide had diabetes in 1985. A decade later, the global burden of diabetes was estimated to be 135 million. The latest WHO estimate – for the number of people with diabetes, worldwide, in 2000 – is 171 million. This is likely to increase to at least 366 million by 2030. Two major concerns are that much of this increase in diabetes will occur in developing countries, due to population growth, ageing, unhealthy diets, obesity and sedentary lifestyles, and that there is a growing incidence of Type 2 diabetes – which accounts for about 90% of all cases – at a younger age. In developed countries most people with diabetes are above the age of retirement. In developing countries those most frequently affected are in the middle, productive years of their lives, aged between 35 and 64.
The number of deaths attributed annually to diabetes is around 3.2 million. Diabetes has become one of the major causes of premature illness and death in most countries, mainly through the increased risk of cardiovascular disease (CVD).
What is diabetes?
Diabetes is a chronic condition that occurs when the pancreas does not produce enough insulin or when the body cannot effectively use the insulin it produces. Hyperglycaemia and other related disturbances in the body's metabolism can lead to serious damage to many of the body's systems, especially the nerves and blood vessels.
There are two basic forms of diabetes:
Type 1: people with this type of diabetes produce very little or no insulin. People with type 1 diabetes require daily injections of insulin to survive.
Type 2: people with this type of diabetes cannot use insulin effectively. People with type 2 diabetes can sometimes manage their condition with lifestyle measures alone, but oral drugs are often required, and less frequently insulin, in order to achieve good metabolic control.
Most people with diabetes have type 2. Many of them have no symptoms and are only diagnosed after many years of onset. As a consequence, almost half of all people with type 2 diabetes are not aware that they have this life-threatening condition.
Complications associated with diabetes mellitus
Cardiovascular disease is responsible for between 50% and 80% of deaths in people with diabetes. Risk factors for heart disease in people with diabetes include high blood pressure, high serum cholesterol, obesity and smoking. Recognition and management of these conditions may delay or prevent heart disease in people with diabetes.
Diabetic neuropathy is probably the most common complication. Studies suggest that up to 50% of people with diabetes are affected to some degree. Major risk factors of this condition are the level and duration of elevated blood glucose. Neuropathy can lead to sensory loss and damage to the limbs. It is also a major cause of impotence in diabetic men.
Diabetic retinopathy is a leading cause of blindness and visual disability. Research findings suggest that, after 15 years of diabetes, approximately 2% of people become blind, while about 10% develop severe visual handicap.
Diabetes is among the leading causes of kidney failure, but its frequency varies between populations and is also related to the severity and duration of the disease.
Diabetic foot disease, due to changes in blood vessels and nerves, often leads to ulceration and subsequent limb amputation. Diabetes is the most common cause of non-traumatic amputation of the lower limb.
How do we prevent and treat diabetes?
Primary prevention, healthy diet and regular physical activity, protects susceptible individuals. It has an impact by reducing or delaying both the need for diabetes care and the need to treat diabetes complications. It should be emphasized particularly in the poorest regions of the world where resources are severely limited.
Secondary prevention includes early detection and good treatment. The treatment of high blood pressure and raised blood lipids, as well as the control of blood glucose levels, can substantially reduce the risk of developing complications and slow their progression. Large, population-based studies in China, Canada, USA and several European countries suggest that even moderate reduction in weight and half an hour of walking each day reduced the incidence of diabetes by more than one half in overweight subjects with mild Impaired Glucose Tolerance (IGT).
Economic costs of diabetes
Because of its chronic nature, the severity of its complications and the means required to control them, diabetes is a costly disease, not only for affected individuals and their families, but also for the health systems. Studies in India estimate that, for a low-income Indian family with an adult with diabetes, as much as 25% of family income may be devoted to diabetes care. For families in the USA with a child who has diabetes, the corresponding figure is 10%.
In WHO's Western Pacific region a recent analysis of health care expenditure has shown that: 16% of hospital expenditure was for people with diabetes. In the Republic of the Marshall Islands, this figure was 25%. And 20% of "offshore expenditure" on health by Fiji was for diabetes-related complications - instances where facilities for care were not available in Fiji, so patients had to travel elsewhere. These represent considerable sums for countries who can ill afford such massive expenditure on preventable conditions.