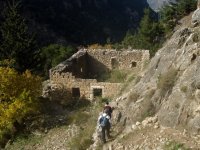 Hiking Hadshit-Qadisha-Ehden (27-11-2009)
Hikers started their walk from Hadchit, they went down to the Sacred Valley which was very quiet and beautifully painted with colors of Autumn. They passed by our Lady of Qannoubine then to the monastery of St. Antonios Qozhaya.
It was getting dark when "wouhoush' Baldati began climbing the challenging hills and reached Ehden right on time. THUMBS UP !!!
Our guide Georges
Zgheib is amazing, he knows all the trails in the Bsharre region. We thank him a lot.